What a Trip: Our 2022 Journey
At Fernish, we are all about saving— saving the planet, saving furniture from ending up in landfills and saving customers time and money. This past year we saved a lot! So before we set sail for the adventures to come in 2023, let's take a look back at all things Fernish from this past trip around the sun.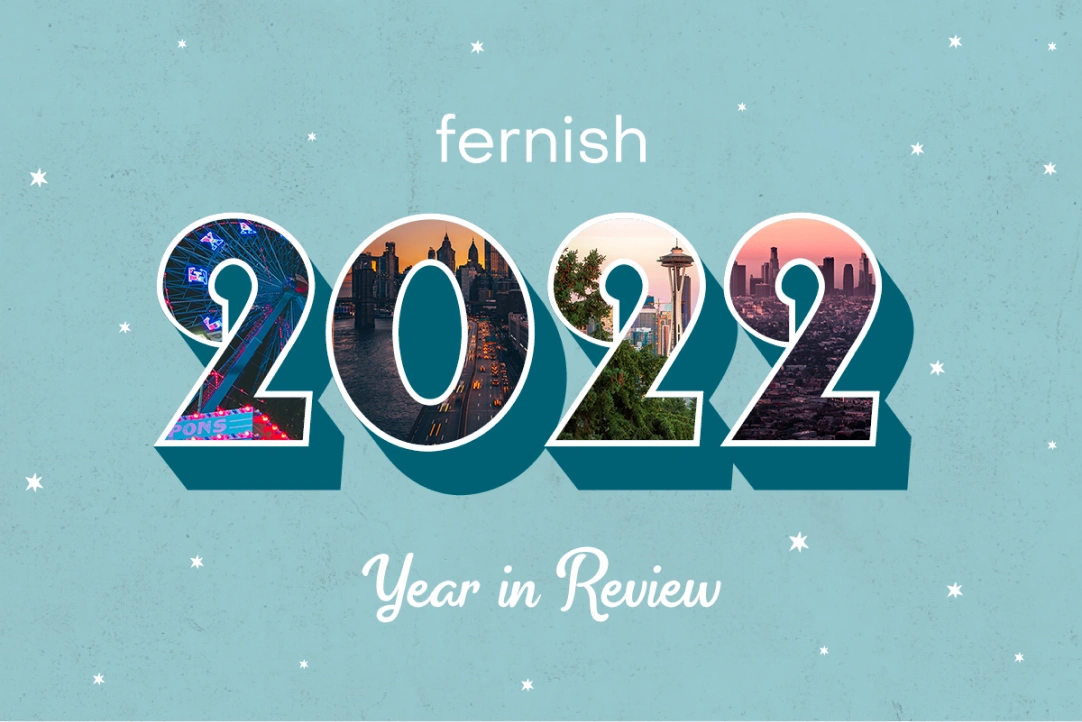 Going the Extra Mile
Fernish saved over 522 tons, or 9.4 miles, of furniture from ending up in a landfill! We did this by employing a circular ready business model, which refurbishes furniture so it's like new. Once a customer is done renting it, we find it another loving home. When it's no longer in circulation, we employ a safe and responsible way to sunset it from the Fernish ecosystem, oftentimes by donating it to local nonprofit organizations.
With our rent-to-own offering, we allow people to "try before they buy'' so they aren't stuck with expensive, cumbersome furniture that doesn't work for them—or worse-—buying poorly-made, wasteful "fast furniture." By sourcing high-quality items, made from durable materials, we build Fernish products to last, reducing unnecessary furniture waste. Our most refurbished items in 2022 included the Remy Sectional, Kacia Dining Table and Dondra Teak Bed.
Bicoastal Destinations
Due to popular demand, we expanded Fernish to two new markets on the East Coast, including the NYC and DC metro areas. We kicked off our Big Apple launch with a massive subway takeover and made a splash in our nation's Capitol by broadcasting our arrival on a fleet of public transit buses.
College grads and Hill staff snapped up our free delivery and assembly services so they could make big moves without the hassle and stress that comes with moving. In total, we saved our customers over 8,160 hours, or 340 days, of assembly time! That's almost a full year's worth of time that we gave back to people who rented, rented-to-own, or purchased from Fernish.
Tour de Force
We met the cutest dogs, cuddliest cats, a few birds and braved many walkups (including ones with 6 flights of stairs!) to help people make their new digs feel like home. We alleviated the stress of moving and allowed people to live more flexibly, without being tied down by the commitment of expensive, cumbersome furniture. Instead of throwing away furniture that no longer worked for them, renting through Fernish allowed people to select exactly what they needed, when they needed it.
Our mission of making it easier and more sustainable to create a home clearly resonated with you. Thanks to your support, our first four markets in Southern California, Seattle, Austin and Dallas/Fort Worth have continued to flourish. Our new markets on the East Coast started with a bang and have maintained momentum in large part due to word-of-mouth endorsements. We are grateful for all the support and referrals to friends and family. Thank you!
Main Attractions
The Remy Sectional was a blockbuster. This longtime customer favorite became a hit with content creators and celebrities. The oversized cushions, versatile look and ability to use it 3 ways, make this a fan favorite across the board. On average, every home rented 7 items although our biggest customer rented 31! We made 48 Reels and launched a TikTok channel racking up more than two and a half million video views. We talked shop on LinkedIn, launched our first charitable limited edition collab and made a splash in the news.
We are genuinely humbled by all of your support in 2022 and have our sights set on even more adventures in 2023! It's a long journey to reform the furniture industry by combating fast furniture, but we can't think of anyone else we'd rather have join us on this trip. Last year alone, we were able to save 23.5 city blocks worth of furniture from ending up in landfills! Thanks for being part of our community and accompanying us on this wild trek.